Dance Performance @Mirror Worlds
Arkaoda Berlin
26th nov 2019
in collaboration with Oltrarno Recordings






Link to the video
WIND Up LULLABY
solo butoh performance
25th Mai 2019, Untergeschoss der Pandora Art Gallery, Berlin

Wind up Lullaby is a butoh performance investigating the underworld of silence and secrets, memory and hidden scars.
According to the ancient legend, when something precious is left unspoken it grows into a seed carried away by the wind to the garden of the words. When words blossom someone in the human world can smell the intense scent of decomposition.

Link to the video
LIMINAL
butoh dance performance and installation
with live music by The Bloio Project
Amalgam Solofest
29th April 2019, Acker Stadt Palast, Berlin

A reflection about feminism and Nietzsche's concept of identity as a narrative illusion, a social and political construction based on a logical fiction and created in order to serve someone else's interests.
Liminality means threshold, suggesting the delicate state of being between two positions, in transition. Women are able to to subvert the constraining logic of identity and live with contradictions, without being stuck in a specific role: we don't have to define and limit who and what we are in order to make easier for others the way to categorize us.

Photo Credit: Joanna Chwilkowska/Rob Chamber
PREPARING FOR DARKNESS
butoh dance improvisation
with live music by The Bloio Project
20th April 2019, Unter Urban, Berlin

A trip from nowhere to nowhere.

Photo credit: Manuel Marcos
ROSE OPEN AT NIGHT
Butoh dance performance
4Rude presents New Butoh Artists Series 01
Tatwerk, Berlin 9th march 2019

"Rose open at night" is a butoh dance-theatre solo performance which takes inspiration from traditional japanese dance "nihon buyo" and the work of Hans Bellmer, the artist who created disturbing life-size dolls in the 30's and used them as models for his surrealist photography.
Dolls and puppets are from the very ancient history special objects because of their nature of simulacra: their aspects simulate the human one, mirroring emotions and needs. At the same time they insinuates the artificiality of human beings themselves, suggesting the assembled and manipulable nature of their identities.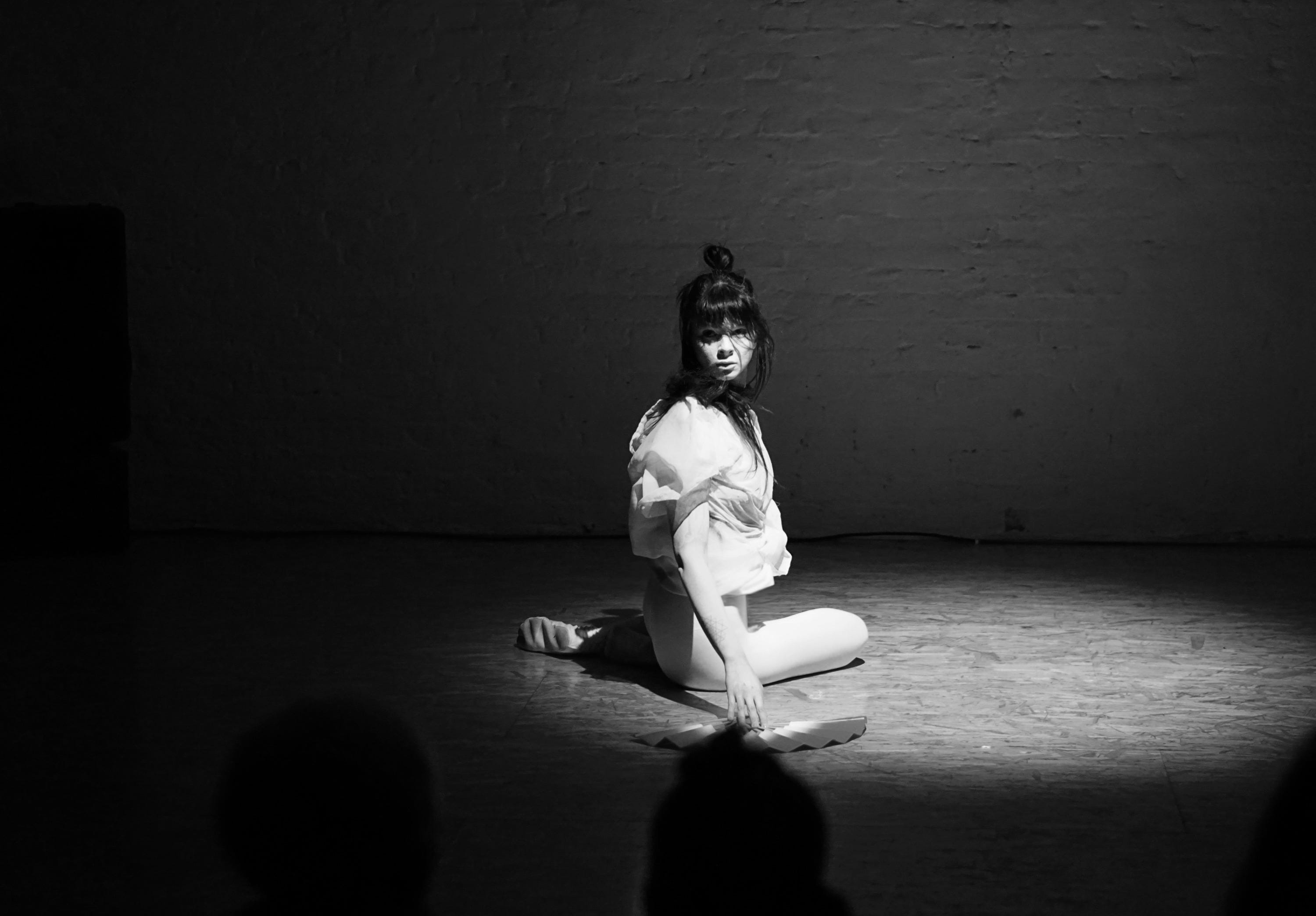 TRACES
butoh dance and painting performance
Amalgam Solo Fest
Acker Stadt Palast, Berlin 18th jan 2019


In an unpredictable system of lines each point becomes predictable if you look at the whole from far away. Identity is just the amount of traces we accidentally leave on the way. Fluids we lose. An a posteriori mark of the absence.


Reanimation 0 @ Agoraphobia, Agora collective, Berlin 21st dec 2018
An alchemical surgical re-animation
in collaboration with Madeleine White and Das Gegenteil

Photo credit: Rob Chamber
@Amalgam Solo Festival, Barbiche, Berlin 24th sep 2018
Photo credit: Morvarid Ka